NightWriter Replacement Ink
NightWriter Replacement ink - black color
* Black ink refill for The Pilot's Pen "NightWriter", unique LED Powered Pen
* Includes three (3) refills.  Same size and quality as Cross 8518-4 refills
* Easy to replace by unscrewing the pen bottom and removing the old ink cartridge and inserting the replacement ink
* Economical replacement cartridges extend the usefullness of your Pen
* Same size as Cross 8518-4 refills
Designed exclusively for The Pilot's Pen NightWriter (LED Pen), these ink cartridge refill are exact replacements of the cartridges supplied with the Pen.  
Further, they're identical to Cross 8518-4 refills (but much less expensive)
Save money whether you're replacing NightWriter ink or need the cartridges for other writing instruments.
Ink color is Black, medium point. Packaged as a set of 3 cartridges.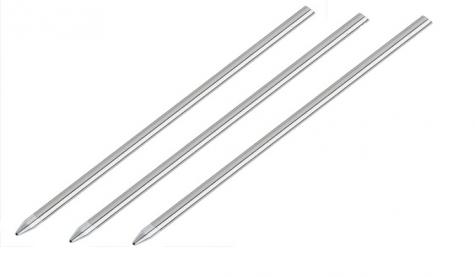 Dimensions:
3 in × 0.1 in × 0.1 in